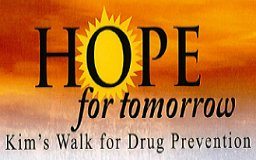 Kim's Walk for Drug Prevention will be held on Saturday, May 21, 2016 from 10:30 to 11:30 am, beginning at the First Church of the Nazarene, 233 W. Church St., in Marion.  
Registration is from 10am to 10:30am.
WHY YOU SHOULD WALK
In memory of someone lost to a drug overdose
In honor of someone in recovery
In recognition of your own recovery
In support of drug prevention
REGISTRATION DEADLINE: May 4, 2015
REGISTRATION FEE
Registration fee includes lunch following the walk. Fee covers expenses for the walk. We encourage walkers to collect additional pledges to support drug prevention

Pre-Register with T-shirt $20
Pre-Register without T=shirt $10
Register day fo the walk (No t-shirt) $15
Elementary age & younger children walk: Free
T-shirt for child: $10
REGISTRATION FORM
Download Here
Tickets are available to those who pre-registerby the deadline
2XL or Larger T-shirts are $3 additional
Donations are welcome and are tax deductible!
Questions?
740-387-8531
142 S. Prospect St., Marion
HELP US PROMOTE IT!
Download Flyer
Sponsored by
The Family of Kimberly Hamm
The Family of Chrystina Carey
Marion-Crawford Prevention Programs Crawford-marion ADAM Board