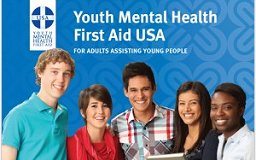 October 21, 2015
Marion Area Counseling Center Hosts Area's Local
'Youth Mental Health First Aid' Training
Similar to 'First Aid' and CPR, 'Youth Mental Health First Aid' teaches individuals how to help adolescents experiencing mental health challenges or crises
WHO:             Members of the local community who interact regularly with young people.  Teachers, coaches, school staff, parents, family members, caregivers, health and human services workers, volunteers, and other caring citizens who want to learn how to help an adolescent (age 12-18) who is experiencing a mental health or addictions challenge, or is in crisis.
WHAT:          Participants who successfully complete the training become certified in Youth Mental Health First Aid.
WHEN:          December 11, 2015     8 am – 5 pm
WHERE:       Marion Area Chamber of Commerce
COST:            Free to members of the local community.  Contact April Smith at asmith@maccsite.com or (740) 387-5210 to register.
WHY:             Mental health challenges – such as depression, anxiety, psychosis and substance use – are shockingly common in the United States.  In fact, more than one in five Americans will have a mental health problem in any given year, including 13.7 million children.  Of those children with a diagnosable mental disorder, only a third gets help from formal mental health care or substance abuse services.  Youth Mental Health First Aid courses prepare community members with the knowledge and skills to help adolescents who are developing a mental health problem or experiencing a mental health crisis.  Identified on SAMHSA's National Registry of Evidence-Based Programs and Practices, the training helps the public better identify, understand and respond to signs of mental illnesses.  For more information on Mental Health First Aid, visit www.mentalhealthfirstaid.org.